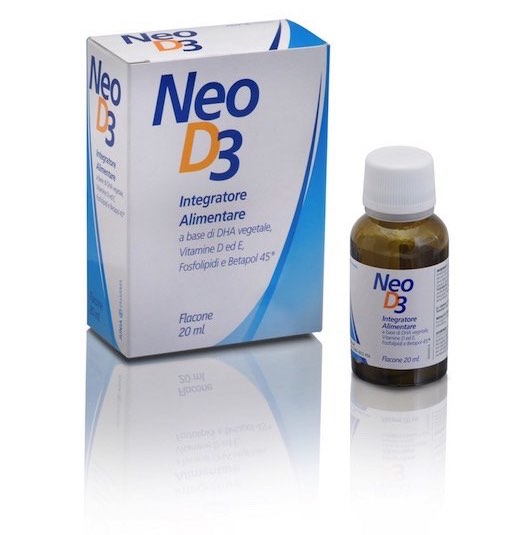 Neo D3 Int.
Nutritional supplement containing vegetable-derived DHA, vitamins, phospholipids and beta-palmitic acid.
Vitamin D contributes to the absorption and consumption of calcium and phosphorus and aids in the cell division process.
DHA – a polyunsaturated fatty acid belonging to the Omega-3 family – is the most essential component of all cell membranes; it aids cellular processes, particularly in the central nervous system and the retina. The DHA contained in NEO D3 is pure DHA derived from microalgae; its vegetable source improves its tolerability.
NEO D3 is also a source of beta-palmitic acid. Palmitic acid is the predominant fatty acid in mother's milk, where is it esterified in beta-position as beta-palmitic acid.
Vitamin E is an antioxidant vitamin that contributes to cell protection.
1mL per day (a full dropper). Shake the bottle well before use. Store in a dry, cool place. Store at room temperature after opening.
NEO D3 can be administered directly on the tongue using the dropper, or mixed into milk or other fluids at room temperature
Sunflower oil, betapoli 45® - a mix of triglycerides high in beta-palmitic acid - algal DHA from Schizochytrium sp., Phospholipon® - Phosphatidylcholine from soy lecithin, Vitamin E (tocopheryl acetate), flavour enhancer, Vitamin D3 (colecalciferol).
- The only nutritional supplement that contains DHA and beta-palmitic acid
- High in Vitamin D3
- Beta-palmitate promotes intestinal well being
- Highly bioavailable, as it contains phospholipids
- Highly tolerable
- Delicious taste
- Contains Vitamin E
Show Composition
184,00 mg

Dose Giornaliera
Gluten free