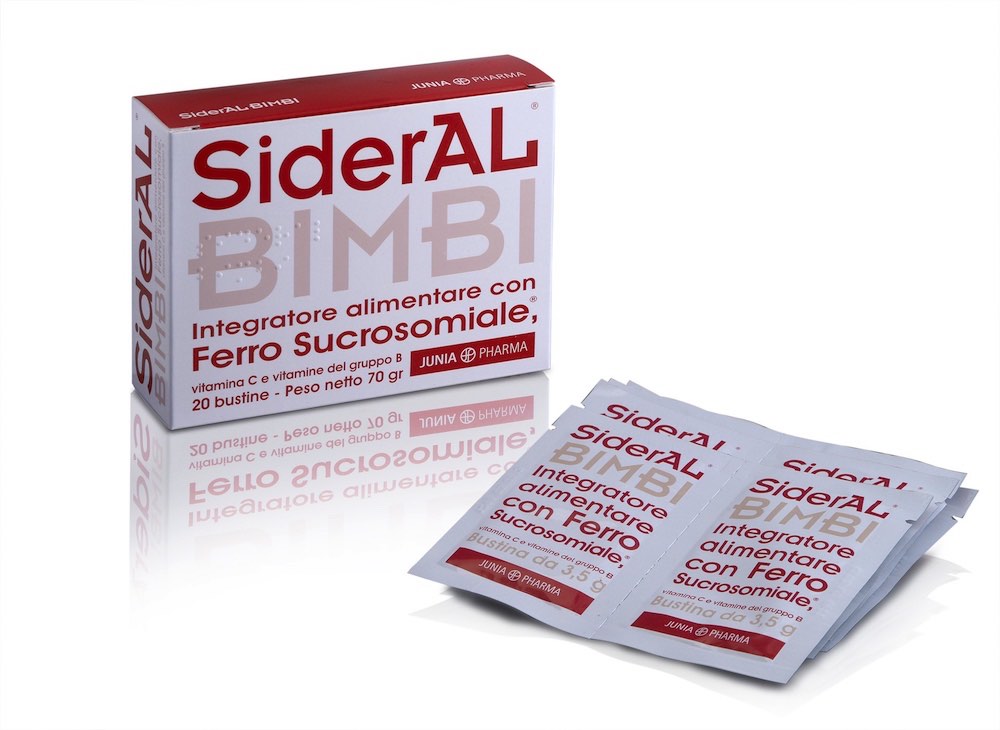 SiderAL® Bimbi
Nutritional supplement with Sucrosomial® Iron
Sucrosomial® iron, Vitamin C and Vitamins from the B group: SiderAL® BIMBI is an innovative, highly bioavailable source of iron, delivered in a pyrophosphate sucrosomial® complex. The sucrosomial® technology employed in the production of SiderAL® BIMBI fully prevents the side effects commonly associated with other iron supplements, such as heartburn, irritated intestines, and discoloration of the mucosal tissue.
SiderAL® BIMBI is particularly indicated in the treatment of the symptoms of asthenia, such as physical weakness and loss of strength, common in children and due to a lack of iron and B vitamins. It is also recommended where long-term iron supplementation is required.
Vitamin C has a key antioxidant function and boosts the immune system. The B vitamins in SiderAL® BIMBI contribute to the production of cells and to erythropoiesis (the production of red blood cells). Vitamins belonging to the B group also play a key role in energy metabolism, protein synthesis and in the functioning of the cells of the nervous system.
Powder, pack of 20 sachets
1 sachet per day, mixed in half a glass of water. SiderAL® BIMBI can be taken at any time of day.
This product is suitable for people suffering from celiac disease, complying to the guidelines established by AIC (Associazione Italiana Celiachia).
Fructose, maltodextrin, flavour enhancer, Sideral r.m.® (liposomial iron pyrophosphate, pregelatinized rice starch, saccharic fatty acid esters, sunflower lecithin on glucose syrup carrier, tricalcium phosphate, milk proteins*), l-ascorbic acid (vitamin C); anti agglomerant: silicon dioxide, pyridoxine hydrochloride (vitamin B6), cyanocobalamine (vitamin B13, trisodium citrate, citric acid, maltodextrin), pteroyl monoglutamate acid (folic acid).
- High bioavailability;
- Delicious taste;
- Doesn't cause stomach aches;
- Doesn't cause discoloration of the mucosal tissue, gums or faeces;
- Doesn't interact with other medication or supplements;
- No risk of build-up;
- Contains fructose;
- Doesn't contain any artificial coloring.
Show Composition
9 mg

Dose Giornaliera

9 mg

Per Capsula
36 mg

Dose Giornaliera

36 mg

Per Capsula
130 mcg

Dose Giornaliera

130 mcg

Per Capsula
1 mcg

Dose Giornaliera

1 mcg

Per Capsula
0,9 mg

Dose Giornaliera

0,9 mg

Per Capsula
Gluten free