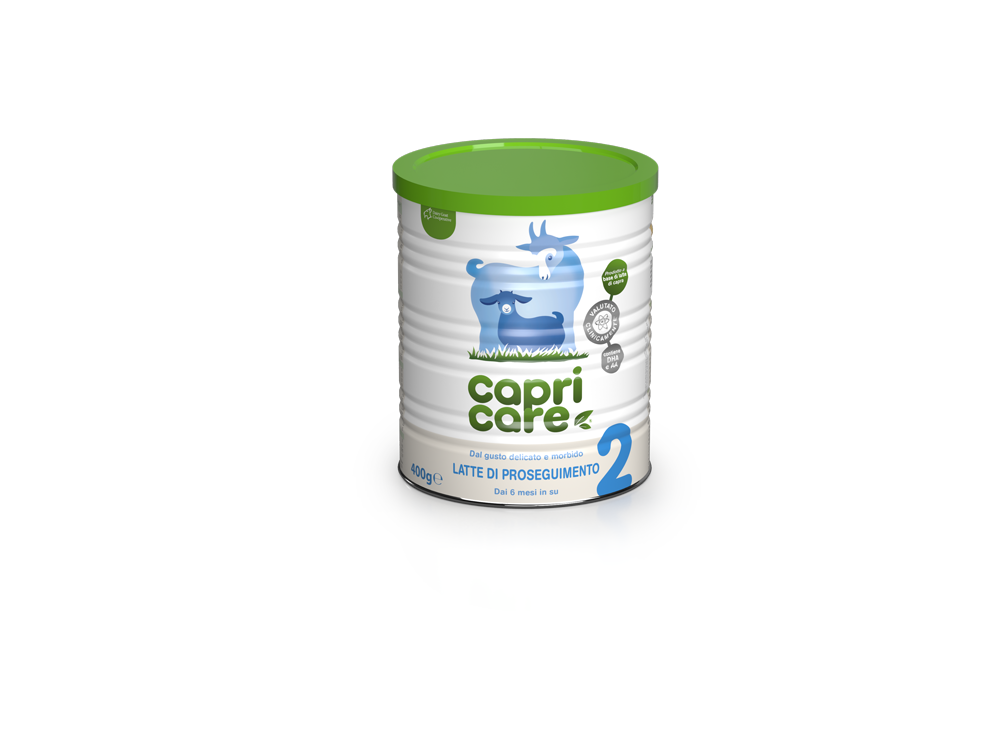 Capricare 2
Follow-on formula (6-12 months) containing whole goats' milk
Capricare 2 is the only follow-on formula for infants from 6 to 12 months containing whole goats' milk.
Capricare 2 is made by Dairy Goat Co-operative, inventor and world leader in goats' milk based formulas for children, and distributed exclusively by Junia Pharma Srl.
Discover all the benefits of goats' milk formulas here
Important: breastfeeding is the best nutrition for the infant. If breastfeeding is not sufficient or possible, follow-on milk for infants may be used upon medical advice. Capricare 2 is a safe substitute or complement to breast milk as part of a diversified diet, suitable for the needs of infants from the 6th month of age. The decision to supplement complementary foods, in particular before the age of 6 months, should only be taken on the advice of the paediatrician and should be based on the specific care of the child in terms of growth and development.
Instructions for use:
Prepare the bottle immediately before use.
Always wash your hands and utensils before preparing the nutrition bottle.
Only use the dedicated Capricare measuring cup and observe the prescribed dosage. Failure to follow the preparation and storage instructions could pose a health risk to your child.
Do not reuse any leftover milk after a meal.
Storage:
Store the closed container in a cool and dry place. After opening, store closed and continue to store in a cool, dry place. Use the contents within 4 weeks of opening.
Pasteurized goats' milk (43%), lactose, vegetable oils (sunflower, rich in oleic acid, rapeseed, sunflower), minerals (calcium hydroxide, dicalcium phosphate, sodium citrate, potassium chloride, ferrous sulphate, calcium citrate, zinc sulphate, copper sulphate, manganese sulphate, potassium iodide, sodium selenite), vitamins (ascorbic acid, dl-α-tocopheryl acetate, nicotinamide, retinyl acetate, cholecalciferol, calcium d-pantothenate, phytonedione, cyanocobalamin, thiamine hydrochloride, riboflavin, pyridoxine hydrochloride, folic acid, biotin), acidity regulator (citric acid), choline chloride, antioxidants (sunflower lecithin), L-tryptophan, L-isoleucine, antioxidant taurine (mixed tocopherols).
Capricare 2 is different from the classic formulas for infants on the market because:
Some characteristics of goats' milk make it more similar to breast milk;
It is naturally rich in bioactive components;
It is highly digestible and tolerable;

It promotes better absorption of proteins, minerals, vitamins and essential fatty acids;

It is free of hydrogenated fats (e.g. palm oil);

It has an excellent palatability.
YOU MAY ALSO BE INTERESTED IN