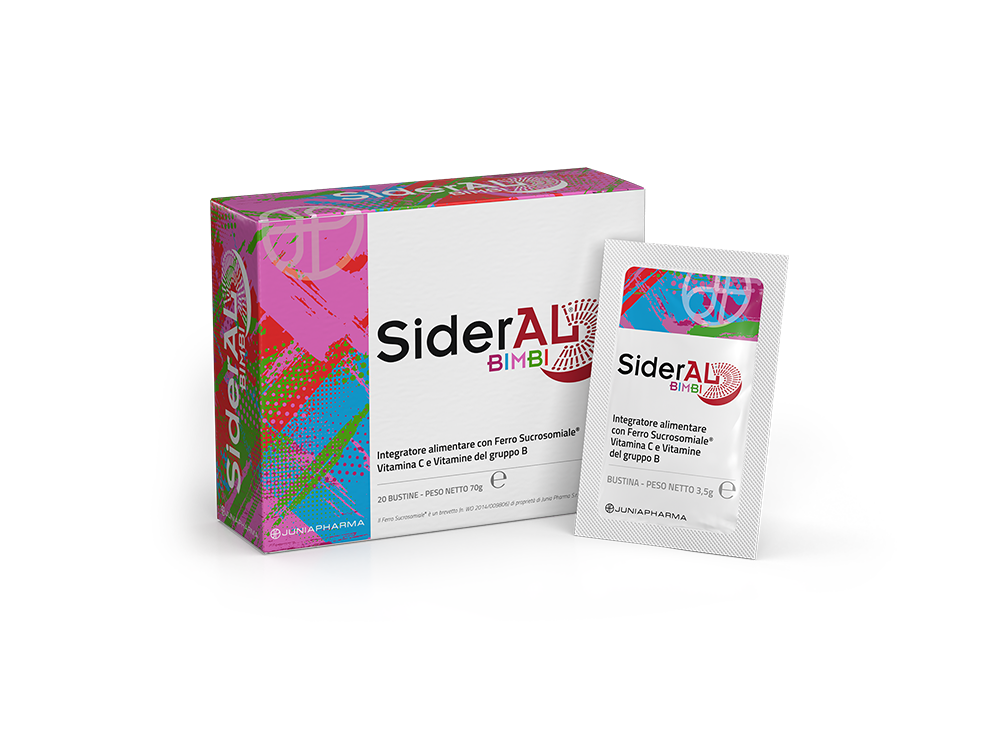 Gluten-free product
SiderAL® Bimbi
Food supplement with Sucrosomial Iron®
SiderAL® Bimbi is a nutritional supplement based on Sucrosomial® Iron, Vitamin C, Vitamins B6 and B12.
Powder, pack of 20 sachets.
The recommended dose is 1 sachet per day, dissolved in a half a glass of water.
SiderAL® Bimbi can be taken at any time of the day.
Product included in the Food Handbook of the Italian Celiac Association.
Fructose, Maltodextrin, Aroma, Sideral r.m.® (Iron pyrophosphate, pregelatinized rice starch, saccharic fatty acid esters, sunflower lecithin supported on glucose syrup, tricalcium phosphate, milk proteins*), acid, L-ascorbic acid (Vitamin C); anti-caking agent: silicon dioxide, pyridoxine hydrochloride (Vitamin B6), cyanocobalamin (vitamin B12, trisodium citrate, citric acid, maltodextrin), pteroylmonoglutamic acid (folic acid).
Thanks to the content of Sucrosomial® iron pyrophosphate, Vitamin C and Vitamins of group B, SiderAL® Bimbi contributes to:
the normal cognitive development of the child,
the normal functioning of the energy metabolism,
the transport of oxygen in the body,
the normal formation of red blood cells and haemoglobin,
the functioning of the immune system,
the reduction of tiredness and fatigue.
Vitamin C also increases the absorption of iron and helps protect cells from oxidative stress.
SHOW COMPOSITION
9 mg

Daily Dose

9 mg

Per sachets
36 mg

Daily Dose

36 mg

Per sachets
130 mcg

Daily Dose

130 mcg

Per sachets
1 mcg

Daily Dose

1 mcg

Per sachets
0,9 mg

Daily Dose

0,9 mg

Per sachets
YOU MAY ALSO BE INTERESTED IN