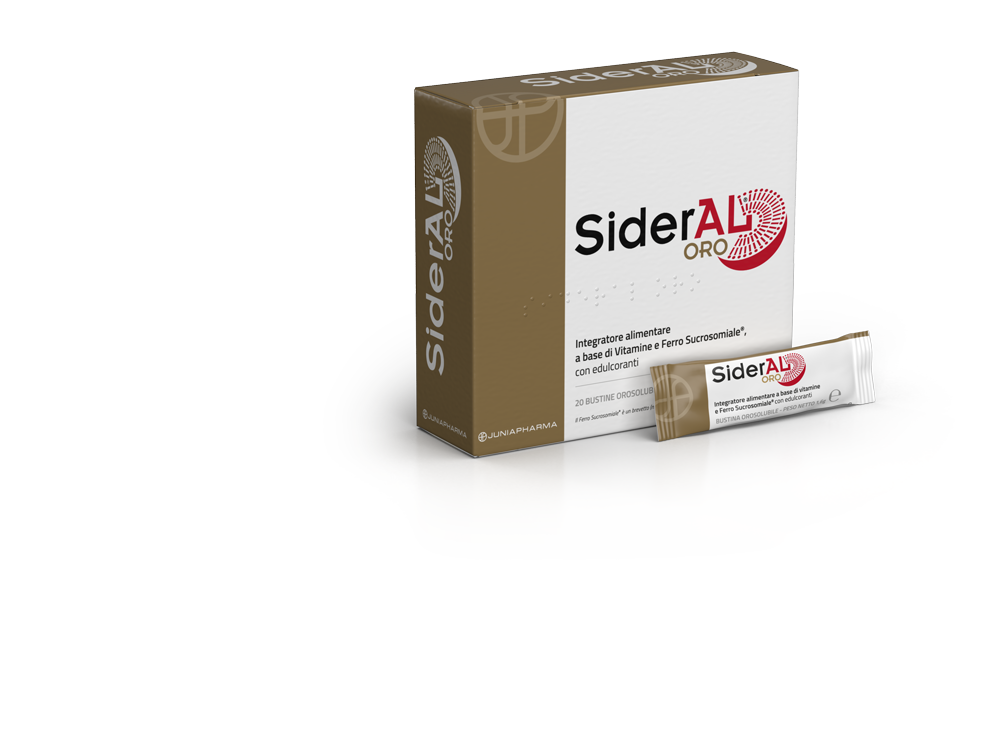 Gluten-free product
SiderAL® Oro
Food supplement with Sucrosomial® Iron
SiderAL® Oro 14 is a food supplement containing Sucrosomial Iron®, Vitamin C and B group Vitamins and has been specifically formulated for children and adolescents.
The innovative oral soluble formulation facilitates an easier and faster intake of vitamins and minerals so that, at any time of day, you can benefit from these ingredients which contribute to the production of red blood cells, support normal energy metabolism and maintain physical and psychological activities.
Oral soluble sticks, pack of 20.
It is recommended to take 1 sachet per day. Dissolve the contents of the sachet directly in the mouth.
Sweetener: Xylitol; maltodextrins; Iron Pyrophosphate Sucrosomial® (Sideral r.m.®)*, L-ascorbic acid (Vitamin C), nicotinamide (Vitamin PP), flavourings; acidity regulator: citric acid; calcium D-pantothenate (pantothenic acid), pyridoxine hydrochloride (Vitamin B6), riboflavin (Vitamin B2), thiamine monohydrate (Vitamin B1), cyanocobalamin (vitamin B12); sweeteners: acesulfame K, sucralose; pteroylmonoglutamic acid (folate); D-biotin (vitamin H).
*Contains milk proteins < 500 ppm
Thanks to the presence of Sucrosomial®iron, SiderAL® Oro 14 supports:
• a child's normal cognitive development,
• energy metabolism,
• the transport of oxygen around the body,
• the normal formation of red blood cells and haemoglobin,
• the normal functioning of the immune system,
Vitamins B1, B6, B12 and PP contribute to a child's normal psychological function.
Vitamins B1, B2, B6, B12 and PP support a normal energy metabolism and normal functioning of the nervous system.
Vitamins B2, B6, B12, PP help to reduce tiredness and fatigue.
Vitamin C, in addition to sharing many features of B group vitamins, increases the absorption of iron and helps to protect cells from oxidative stress.
Biotin contributes to normal energy metabolism, normal psychological function and normal functioning of the nervous system.
Pantothenic Acid helps reduce tiredness and fatigue and supports normal mental performance.
Folate helps to reduce tiredness and fatigue, supports normal haematopoiesis and contributes to normal immune system function.
SHOW COMPOSITION
14 mg

Daily Dose

14 mg

Per sachets
48 mg

Daily Dose

48 mg

Per sachets
16 mg

Daily Dose

16 mg

Per sachets
6 mg

Daily Dose

6 mg

Per sachets
1,1 mg

Daily Dose

1,1 mg

Per sachets
1,4 mg

Daily Dose

1,4 mg

Per sachets
1,4 mg

Daily Dose

1,4 mg

Per sachets
2,5 mcg

Daily Dose

2,5 mcg

Per sachets
200 mcg

Daily Dose

200 mcg

Per sachets
50 mcg

Daily Dose

50 mcg

Per sachets
YOU MAY ALSO BE INTERESTED IN